The Spa at Ai Ais Hot Springs Resort
The main attraction at Ai Ais Hot Springs Resort is the spa complex built around a natural hot water spring. The spring water at Ai-Ais is said to have natural curative ingredients which are especially therapeutic for rheumatism sufferers.
Spa treatments can be booked on your arrival at Ai Ais Hot Springs.

Activities at Ai Ais Hot Springs Resort Fish River Canyon Namibia
Apart from the Ai Ais Spa, things to do at Ai Ais include relaxing by the naturally heated indoor and outdoor pools or enjoying the Ai Ais Richtersveld transfrontier park animals animals and birds.
Guided Nature Drives (morning or afternoon
Guided Nature Walks (morning of afternoon)
Bird watching
Relaxing at the hot springs and swimming pool
Nature walks and nature drives can be booked on arrival at Ai-Ais, however note that the three to five day Fish River Hike must be booked in advance. Due to high demand and the restricted number of hikers allowed into the canyon we recommend booking the Fish River hike at least one year in advance to secure your preferred dates.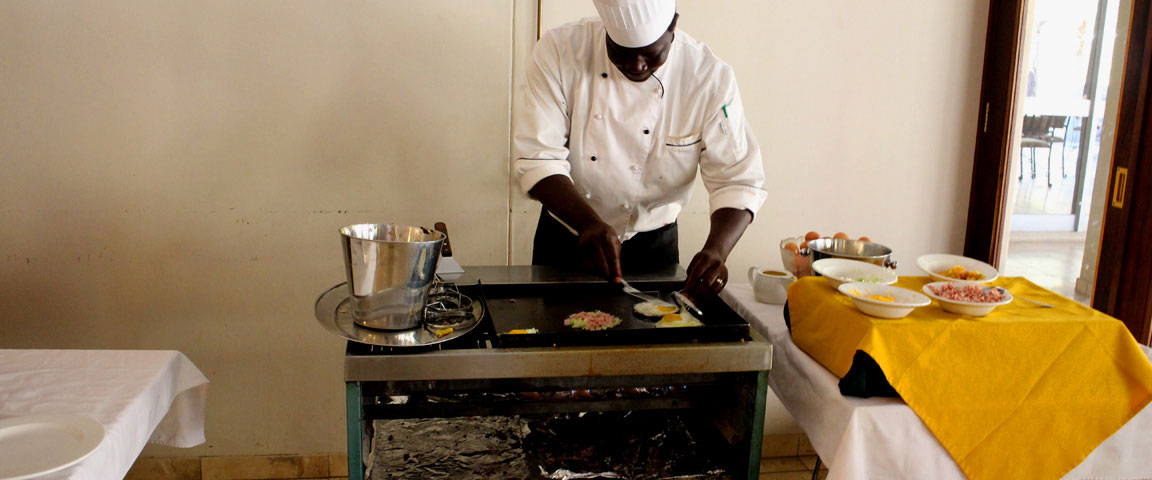 More Facilities and Services at Ai Ais Hot Springs Resort
Ai Ais Hot Springs Resort has a restaurant and bar which can seat up to 100 guests serving buffet meals for breakfast, lunch and dinner.
Room service is also available to guests staying at Ai Ais Hot Springs Resort.
Other facilities and services available at Ai Ais Hot Springs Resort include:
laundry services
secure parking
garage selling fuel
small shop
safe for valuables at the reception
Directions from Vioolsdrif / Noordoewer Border Post to Ai Ais Resort
From the border head northwest on the B1 for 39.6 km Tar road
Turn left onto D316 follow the road for 71.5 km then turn left onto C10/M97 Gravel road
Destination will be on the right in 10.8 km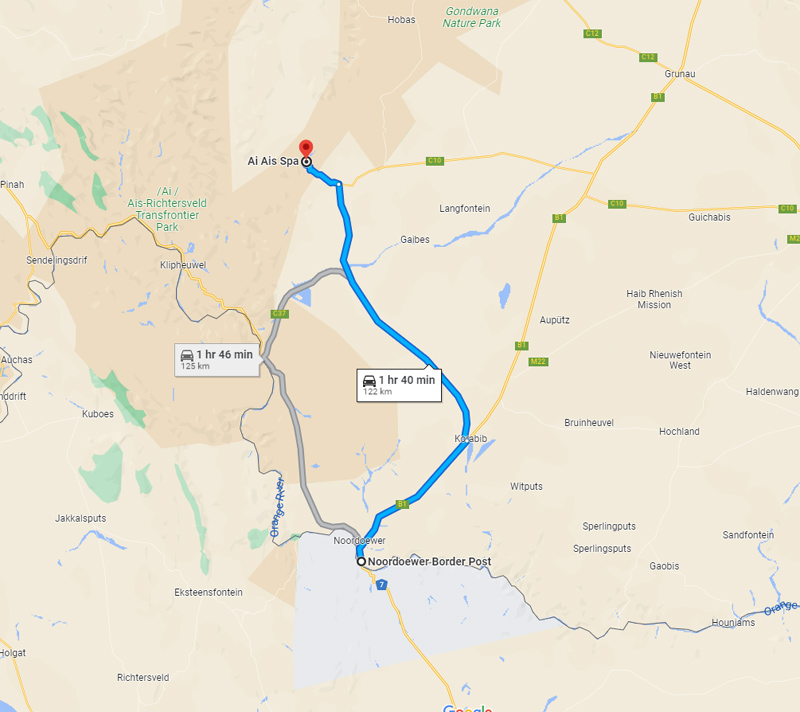 Directions from Ariamsvlei Border Post to Ai Ais Resort

Approx travel time 3 hr 9 min (267 km)
Head northeast
35 metres
Turn right
300 metres
Turn left onto D269
120 metres
Turn right onto B3 tar road
162 km
Turn left onto B1 tar road
31.6 km
Turn right onto C10 Gravel road
Destination will be on the right
73.2 km
Directions from Windhoek to Ai Ais Resort
Via B1. Approx travel time 7 hr 21 min (760 km) allow 90 minutes extra for rests/photo stops and such
Realistic time 9 hours
Take Beethoven Street to C28
4 min (1.8 km)
Head east on Jenner Street toward Behring Street
650 m Turn right onto Beethoven Street
1.1 km
Follow B1 to C10 in Karas Region tar road
6 hr 25 min (688 km)
Turn left onto C28
250 m
Turn right onto Hosea Kutako Dr/B1 tar road
Continue to follow B1
2.9 km
Continue onto Mandume Ndemufayo Avenue/Rehobother Rd
Continue to follow Mandume Ndemufayo Avenue tar road
3.0 km
Continue onto Rehobother Rd/B1 tar road
Continue to follow B1
231 km
Keep left to stay on B1 tar road
253 km
Keep left to stay on B1 tar road
6.9 km
At the roundabout, take the 1st exit and stay on B1tar road
190 km
Turn right onto C10 Gravel road
Destination will be on the right
73.2 km
Sesriem to Ai Ais Resort
Route 1/ via C14 - Fastest route due to traffic conditions
Approx time with no stops 7 hr 26 min (613 km) allow 90 minutes extra for rests/photo stops and such
Realistic time 9 hours

Head east toward C27
14 s (88 m)
Take C19, C14, B4 and C12 to D601 in Karas Region
5 hr 57 min (518 km)
Slight left onto D826
11.8 km
Turn right onto C19/M36
Continue to follow C19
26.2 km
Sharp right to stay on C19
0.0 km
Sharp left to stay on C19
101 km
Slight right
7.7 km
Turn right onto C14
120 km
Turn left to stay on C14
112 km
Turn left onto B4
62.8 km
Turn right onto C12
76.4 km
Take C37/D324 to C10/M97
1 hr 4 min (72.1 km)
Turn right onto D601
29.9 km
Turn left onto C37/D324
42.2 km
Turn right onto C10/M97
Destination will be on the right
24 min (23.0 km)
Route 2/ via C19 and B1 - 7 hr 54 min (763 km) allow 90 minutes extra for rests/photo stops and such
Realistic time 9 hours 30 mins
Follow C19 to B1
3 hr 9 min (273 km)
Head east toward C27
88 m
Slight left onto D826
11.8 km
Turn right onto C19/M36
Continue to follow C19
26.2 km
Sharp right to stay on C19
0.0 km
Sharp left to stay on C19
235 km
Follow B1 to C10 in Karas Region
3 hr 50 min (417 km)
Turn right onto B1
220 km
Keep left to stay on B1
6.9 km
At the roundabout, take the 1st exit and stay on B1
190 km
Turn right onto C10
Destination will be on the right
56 min (73.2 km)