Enjoy guided Walking Tours on our reserve where various small game can be spotted from the lookout decks and hides. Sundowner Drives and Stargazing Sessions allow guests to experience the magic of our sunsets and famous star studded skies.
Let our team whisk you away to an enchanted venue in the Mopane Forest for a magnificent Boma Dinner Experience for your special function or private dinner.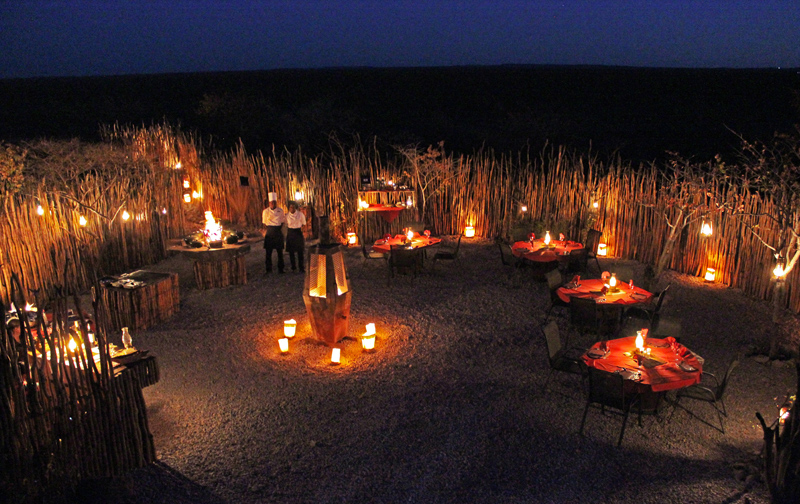 Eating at Etosha Village
Inspiring cuisine can be enjoyed at the Etosha Village Restaurant.
At a typical Namibian Rural Village families are divided into three areas when dining. Traditionally one area is dedicated to men, one to women and the other for the elderly and children. When Etosha Village was designed, we remained true to this tradition and created three different dining areas at our restaurant, but of course not split into gender groups.
Etosha Village is well known for inspiring cuisine and many guests have claimed that it is the best buffet dinner experience in Namibia! You can start your day with a scrumptious buffet breakfast with an extensive selection of all the favourite delectable breakfast foods and treats. Lunch is served a' la carte with loads of mouth-watering dishes to choose from. The popular buffet dinner will leave you spoiled for choice between the salads, side dishes, grilled meats and stir-fries - all prepared fresh and in front of every guest! For the perfect ending there is a range of decadent dessert sensations as well as a variety of cheeses and biscuits. *
At the buffet area there is a 24 hour coffee station with a variety of coffees and teas to enjoy at any time! Enticing lunch packs can also be ordered the evening before at reception to take along on self-drives or guided excursions to Etosha National Park.
* Please note that on the occasion when we have less than 20 guests in-house we serve a delicious plated 3 Course Dinner and have a set menu available at Breakfast.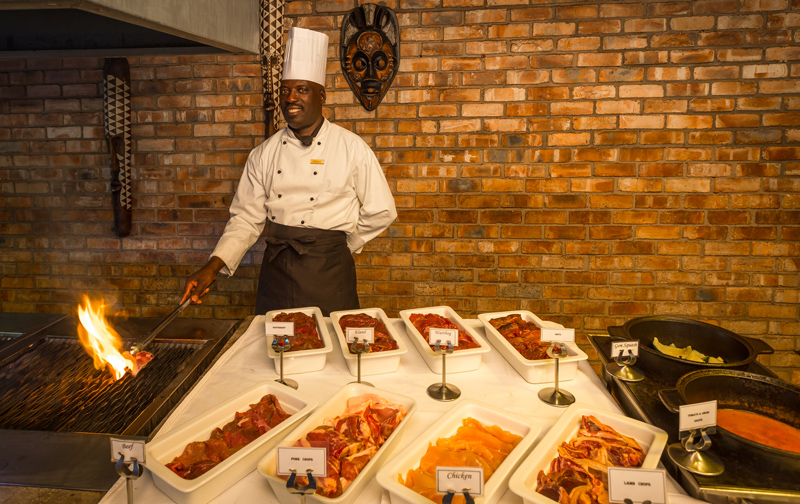 On-site facilities include
Swimming pools The large garden and pool area create a relaxing environment at Etosha Village. A refreshing dip in the large 4 x 10m pool will go a long way after a hot day of sightseeing in the park. A medium rounded pool is ideally situated for parents to cool off while they can keep a close eye on their children in the adjacent kiddie pool. There are quite a few spots around the pool area with comfortable sunbeds to relax with a good book or to enjoy a few cocktails and beverages. Pool towels are available at reception. Reading material and sunblock are available to purchase from the Cuca Shop. The pool is only available to paying guests and is used at one's own risk. Children must be under the supervision of a responsible adult at all times.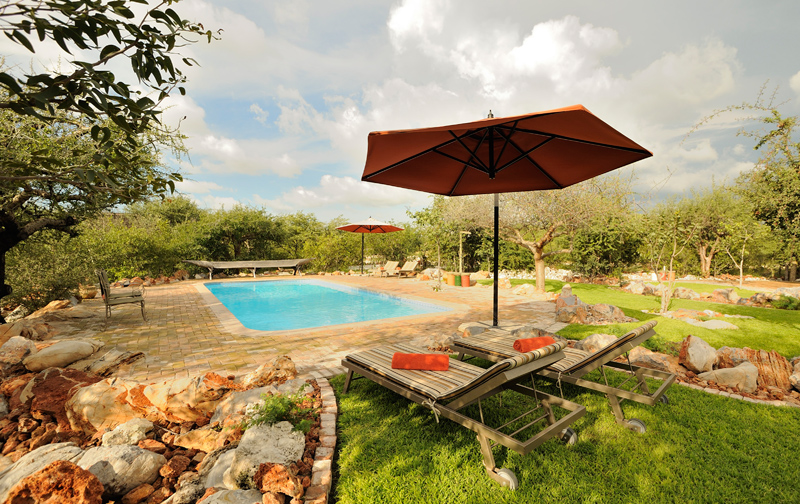 Bar area with a big-screen television
The unique open-plan bar at Etosha Village is replicating the round shape of typical African-style huts usually found in traditional villages. The bar area feature a cosy fire pit to create a welcoming atmosphere and a big screen television for viewing nature programs and sporting events whilst enjoying your refreshments.We stock a wide selection of beverages as well as an impressive collection of the best South African wines.Be sure to taste our famous house wine, the Spotty Cellar Collection, and be entertained by the story of our very own resident zebra, Spotty.The Bar is always open during service hours.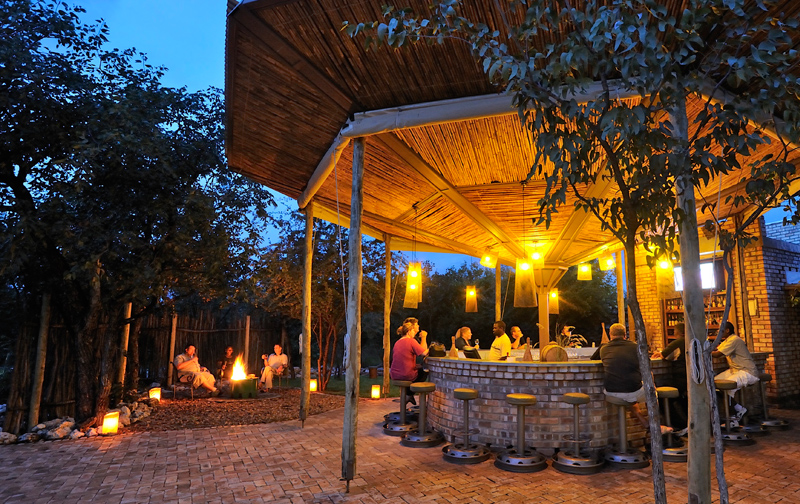 Fully stocked utility and curio shop.
Next to the reception area there is another African style hut (rondavel) hosting the 'one stop Cuca shop'. The term "Cuca Shop" originated from the local languages for a shop that sells everything.The Etosha Village Cuca shop stocks a little bit of everything and also have cooldrinks, ice-cream, reading materials, curios, cell phone airtime and much more!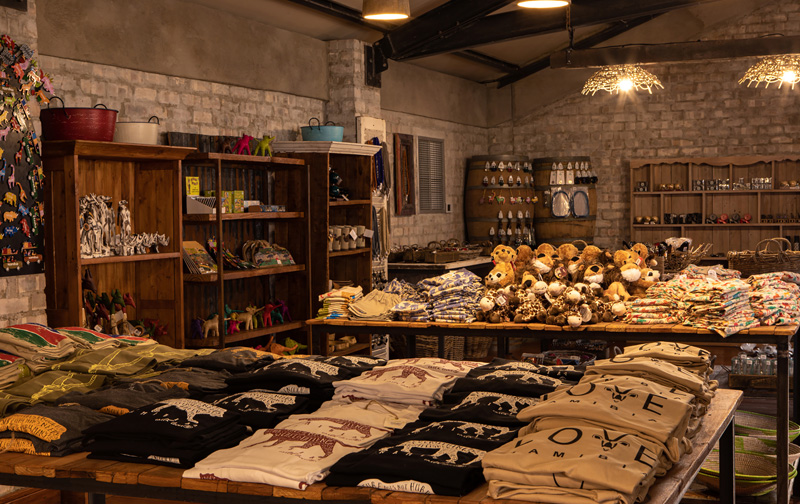 Morning or Full Day Game Drives
Join us for a Game Drive in one of our special open game viewer vehicles. Our knowledgeable guides, who specialise in the area, will take excellent care of you and will provide wonderful information on the region, the abundance of wildlife, plants and history of Etosha National Park.Guests can choose to go on a morning half day excursion or a full day excursion to Etosha National Park.Morning drives to Etosha National Park commence at approximately sunrise, depending on gate opening times which vary during seasonal changes, and return around 12H30 /13H00. These trips last for approximately 5 hours and follow a route through the Andersson Gate to Okaukuejo and further on to various waterholes in a circular route back to Okaukuejo. We include light refreshments coffee, tea, water, juice and biscuits on the vehicles and guests can also pre-order optional lunch packs to take along should they wish to do so.Subject to availability full-day trips to Etosha National Park can also be arranged. Full Day Drives to Etosha National Park commence at sunrise, depending on gate opening times which vary during seasonal changes, and return around 17H00. We include light refreshments coffee, tea, water, juice and biscuits on the vehicles and guests can either pre-order optional lunch packs or they can have lunch at one of the camps inside the park.Our experienced guides driving these vehicles have extensive knowledge of the area and animals and give a "running commentary" as the trips proceed.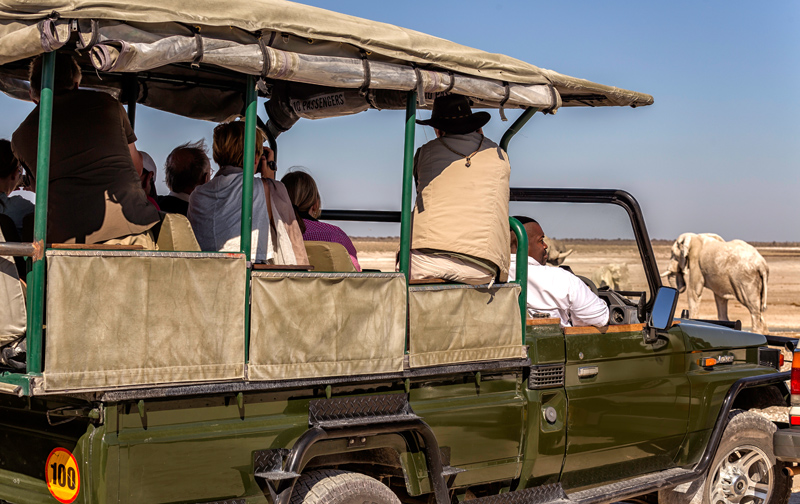 Sundowner Drives
What better way than to end an exciting day of game-viewing in Etosha with a relaxing Sundowner Drive. We depart from the Etosha Village in the late afternoon in our open game viewer vehicles. You will experience breath-taking views of the Mopanee forests with occasional photo stops where our knowledgeable guides explain the fauna and flora. For sunset we go to a secluded deck to watch a spectacular sunset while enjoying sundowner drinks and snacks. Weather Permitting.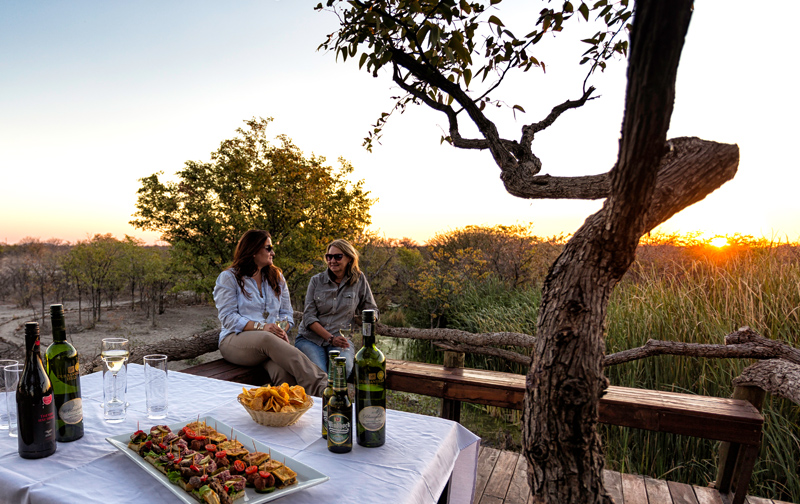 Sunrise Walk
Our sunrise nature walk takes place along a beautiful footpath winding through the lush Mopane Forest. Our knowledgeable guide will focus on tracks, indigenous tree species and local wildlife. We'll spend some time at our hide where nature will completely surround you. Weather Permitting.
Stargazing
See our Southern sky and various constellations. Appreciate the spectacular Namibian star-studded skies! Take a journey through the heavens with us as we introduce you to the basic constellations, the Milky Way and a peek through our telescope at the planets. Weather Dependent & Seasonal (only available when constellations are visible - approximately from May until October) Enquire at the Adventure Centre for availability.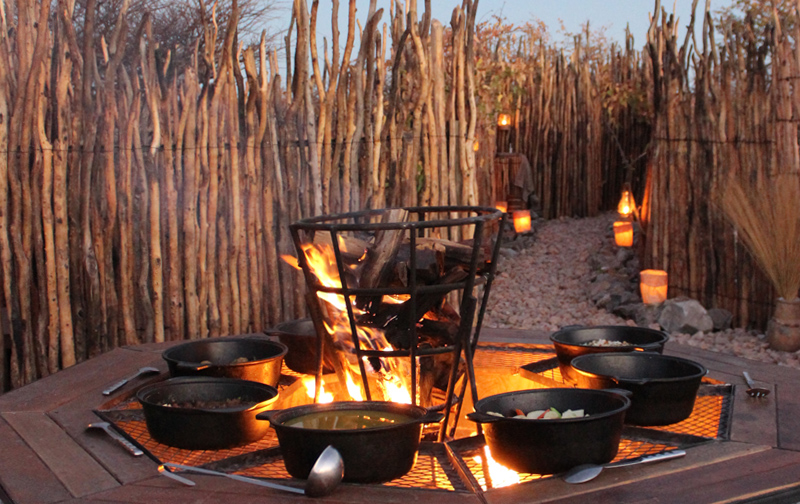 Boma Dinner
Let our Team at Etosha Village whisk you away to an enchanted venue in the Mopane Forest for a spectacular Bush Dinner. Sip refreshing Sundowner Drinks while watching the sun set over the Etosha National Park and after dark sit down to a real Bush Cuisine Experience. Our well trained Chefs will tantalize your taste buds with our authentic Bush Cuisine Menu prepared to perfection on open fires. Our Bush Boma has the following facilities: Table and Chair Set Up, Buffet, Bush Bar, Bathroom Facilities, Star Gazing Deck. Includes: Buffet Dinner and Bush Bar facility Weather Dependent & Seasonal (approximately from May until October)