Spitzkoppe is one of the most memorable places to stay in Namibia, a night spent here under the stars while the sounds of the desert whistle around the peaks is highly recommended to all visitors to Namibia.
Referred to as the Matterhorn of Namibia it towers 670 metres over the flat desert that surrounds it. Spitzkoppe actually means pointed dome in German and its easy to see why as the dramatic, bald granite peaks jut up into the clear blue sky during the day and at night they are crowned with a mantle of stars and you can gaze up and make a wish on the shooting stars that blaze across the night sky.
Where is Spitzkoppe?
Spitzkoppe is in the central eastern Erongo region of Namibia and is easy to get to from several directions, you can get to Spitzkoppe in a normal 2wd sedan vehicle although the last part of the journey is on gravel road and if you drive into the community area to either camp or explore look out for sandy patches.
Here are some distances and a map showing all the main areas of Namibia so you can see where Spitzkoppe is and how to plan it into your trip to Namibia.
Spitzkoppe is located:
278 km northeast from Windhoek
152 km northwest from Swakopmund
420 km South of Etosha's Anderson Gate
130 km south of Brandberg Mountain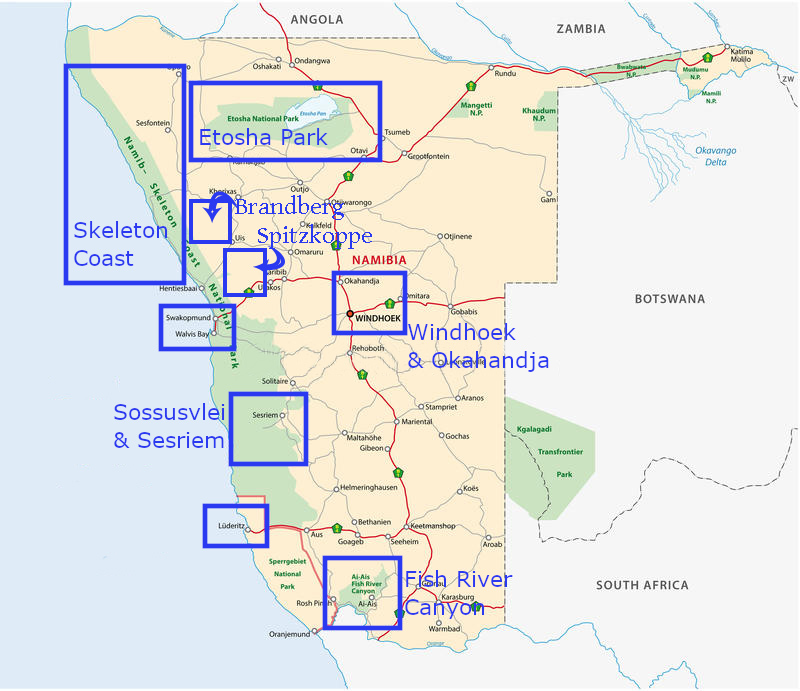 Where to stay when visiting Spitzkoppe
There are 3 places offering accommodation at Spitzkoppe:
Spitzkoppen Lodge which offers stylish, private accommodation with 15 generously spaced, tastefully furnished chalets, each with a private bathroom and covered outside viewing deck.
Spitzkoppe Community Campsite A mountain oasis in the Namib desert, with unique oversized boulders and secret caves, allows the visitor to camp in complete peace and tranquility.
Spitzkoppe Tented Camp This camp offers accommodation in preset bush tents each with private bathrooms, electricity and braai area, for those who wish to camp there are Campsites with private flush toilets and shower