Waterberg Plateau Park is a national park in central Namibia encompassing the Waterberg Plateau, 68 km east of the town of Otjiwarongo. The Waterberg Plateau is a particularly prominent feature, elevated high above the plains of the Kalahari of Eastern Namibia. The plateau and some 405 km² of surrounding land were declared a Nature Reserve in 1972. The plateau is largely inaccessible so in the early 1970s several of Namibia's endangered species were translocated there to protect them from predators and poaching to extinction. The programme was very successful and Waterberg now supplies other Namibian parks with rare species. In 1989, Black Rhino were reintroduced to the area from Damaraland, sparking a successful breeding programme of national and international significance for the species.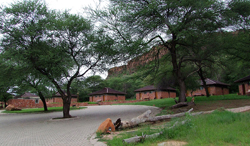 The Waterberg Plateau Park is ecologically diverse and rich and has over 200 different species of bird and some rare species of small antelope on the lower hills of the mountain.
Camping Site Demarcated shaded sites with 7 Ablution Blocks all with showers and toilets; 2 Field Kitchens equipped with cooking areas. All camping sites are outfitted with braai facilities, power points and cold & hot water
Accommodation
8 Premier Chalets: 2 beds, 1 room; deluxe double chalet, with double bed, en-suite bathroom, fridge and tea station as well as braai facilities.
4 Family Chalets: 4 beds, 2 rooms; with two en-suite bedrooms, lounge area, kitchenette with fridge, tea station and breakfast table and outside braai facilities
11 Bush Chalets: 4 beds, 2 rooms; chalet with two bedrooms, both en-suite, lounge area with breakfast table, fridge, tea station and braai with seating area.
12 Bush Chalets: 2 beds, 1 room Double chalet with bathroom, lounge area with breakfast table, fridge, tea station and braai with outside lounging area.
Double Room 2 beds, 1 room; Comfortable double rooms with en-suite bathroom, fridge and tea-station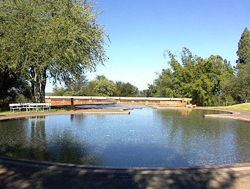 Activities and Attractions at Waterberg
Guided Game drives
A daily game drive in the Plateau Park can be booked at reception (several rare species including Rhinoceros, Buffalo, Sable and Roan Antelope)
Self guided or guided Walking Trails
Visitors are free to wander along several well marked paths around the rest camp and up onto the Waterberg Plateau (where there are excellent views of the surrounding savannah)
Relax at the Swimming Pool
Introducing guided day and overnight horse trails on the plateau
Enjoy a meal or drink at the Restaurant