Welcome to Windpomp 14
Previously part of the Miles & Jakalsputz fishermans camps Windpomp 14 used to be known as Mile 14 due to its location 14 miles north of Swakopmund. Windpomp is now run privately as part of a joint venture with NWR.
This once basic fishermans camp now has a host of facilities to keep both fishermen and their families happy during a holiday. While still primarily a fishermans camp, and running several angling events during the year Windpomp 14 is also a comfortable place for families to relax on an overnight stay or for a couple of nights as you explore the area of Swakopmund and further north up the Skeleton Coast.
Accommodation at Windpomp 14
Located right on the shore of the Atlantic ocean Windpomp 14 has 21 clearly marked campsites in five rows. Those on the front row closest to the ocean are in particularly high demand.
Windpomp 14 offers camp sites with electricity points, and the ablution blocks provides flush toilets and hot showers to campers.
Each camp site at Windpomp 14 has a built in Braai place (BBQ) but you should provide your own no grid. Rubbish bins are provided at all camp sites.
The electricity supplied to the camp sites is via 220v plug for charging and has a caravan adaptor.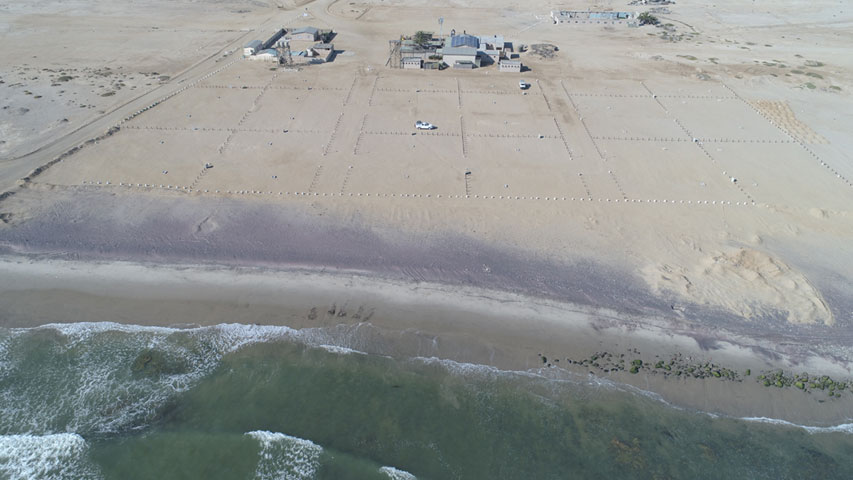 Facilities at Windpomp 14
The Fishermans Pub and Grill restaurant at Windpomp 14 is very popular. There is also a kitchenette for those wishing to cater for themselves. A small kiosk or shop provides a few basic supplies.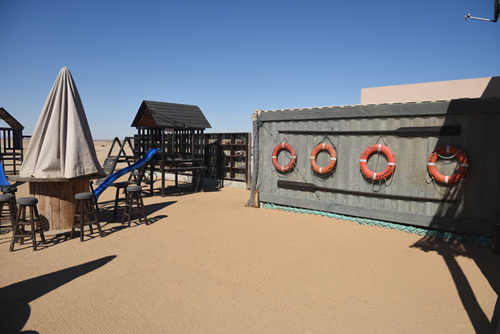 Activities at Windpomp 14
This section of the Namibian coast offers excellent shore fishing, , and Windpomp 14 also offers Kayak fishing and a self drive 4x4 route.
You can also explore the coastline north of Windpomp up towards the Skeleton Coast National Park, of particular interest is the Cape Cross Seal Colony.
The Dorob National Park in which Windpomp 14 is situated covers the central Namib Desert including the coastal area. North of Cape Cross (where you will find the seal colony) you can also see unique lichen fields, and there are a number or cultural sites suich as the Messum Crater which contains San rock art as well as archeological sites from the nomadic Damara people.
Nearby towns and settlements include Swakopmund, which is the best known in the area famous for its old German architecture and adventure activities such as sand boarding and quad bikes. Further north you will find the lesser known coastal town of Henties Bay which is popular with seasonal fishermen and therefore much busier during peak seasons such as December and January.
How does Windpomp 14 get it's name?
Windpomp is a term meaning windmill, and windmills are common in Namibia as a means of harnessing the power of the wind to pump water. The number 14 comes from the original name of "Mile 14" dating back to when this was a basic fishing camp located 14 miles north of the Swakopmund towns northern perimeter marker.